[geekery]
Funnily enough, I also collect medals and one of my themes is jubilee medals. I have all of them from the 1887 golden jubilee through to 2012 including the Canadian variants. The only one I haven't yet been able to acquire is the 2012 Caribbean Realms medal.
The 1887 Bronze and Silver medals with 1897 clasps cost an absolute arm and a leg.
I've even got the 1887 & 1897 jubilee medals issued to the Police, Fire Service, SJA and others. My best one is a 1887 City of London Police medal that is one of those that were held by Chief Constables (ie: unissued) and is in pristine condition.
On the Coronation Medal and Delhi Durbar medal front, I have them all from 1902 onwards including a 1902 Silver medal that was awarded personally by Edward VII to Henry King who was Secretary to the Coronation Choir. The 1903 Delhi Durbar medal was purchased from Australia as they are rare beasts in the UK. Only 2,567 of them were issued in silver.
On a separate note, I've recently acquired both "Battle of Britain" and "Bomber Command" clasps for the 1939-45 Star. Rare beasties indeed.
[/geekery]
I've got the 1887 and 1897 police jubilee medals since taking that picture. Along with some groups with jubilees in. Will do an update picture when I get a chance.
This is my most recent purchase which ticks my jubilee and long service boxes. A PC during the war and a chief inspector by the time of his long gong.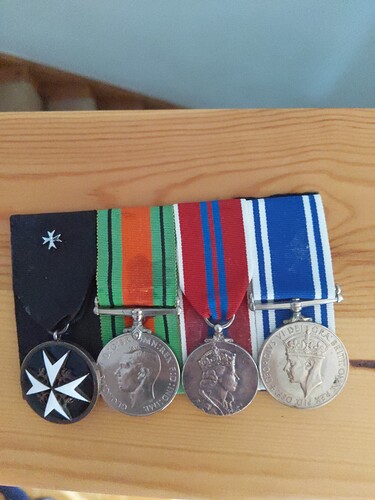 Its a 1953 Coronation medal…
Yeah. I've not dug out the 1887/1897 ones. This one was on my phone though.
These are a fairly recent acquisition to my collection. They belonged to Flt Lt (Ret'd) J D O'M****** MBE RAFVR (Training Branch) who served with the ATC for some 53years. He was ECSM Wg and died in 2010.
If anyone on here knew him and has a photo, I'd very much like to have a copy to go with the research I already have.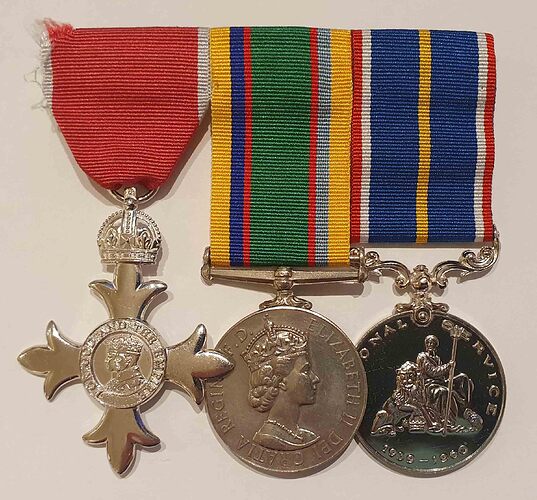 The CFM is an official replacement and is impressed as such. He resigned his commission 12 years to the day he was appointed, hence qualifying for the CFM but no further clasps.
I've been interested in starting a medal collection. I find myself intrigued by many Instagram accounts from people who do as such.
How did you get started into it if you don't mind me asking?
I bought my first one at a car boot sale, then from reputable dealers. I joined some Facebook groups and bought some others from people there with a good reputation. Some came from eBay but you need to be very careful there, had a few costly mistakes in the early days.
I'm guessing they come with certificates or authenticity or something similar?
How do you store them? In large cabinets or individual frames with the relevant story?
It's an unofficial National Service Medal from these guys

With the exception of the Jubilee "gizits" they tend to come with the name rank and serial number engraved on the rim.
We had Mark Smith from the antiques roadshow come to the Squadron for an event and he had offered to come back and do a "medals and militaria" session with the Cadets and staff he has thousands of medals so was going to do a presentation of some of his stuff and then get the Cadets and staff to bring in whatever they had at home (Grandads Medals etc). Was cancelled due to Covid but defo needs to be resurrected when we are back to normal.
I have most of my collection in a glass cabinet I bought on Amazon. Here's one of my collections that is currently awaiting re-mounting and placing in a glass frame: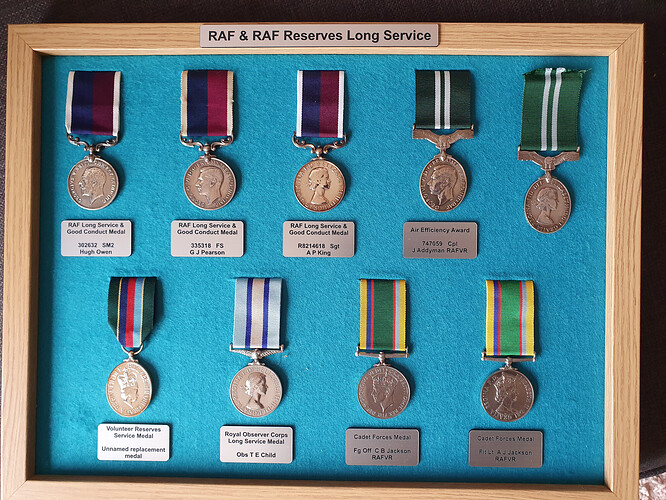 I first started collecting when I was around 14 years old. I started with my families WW1 and WW2 medals and now have both my grandfathers, my fathers and his two brothers groups, together with a distant relative who was killed with the Australians at Messines in 1917. He is remembered on the Menin Gate.
Here's the link to the British Medal Forum which contains tons of info on medal collecting: https://britishmedalforum.com
Thanks, guys. Appreciate the info.
I sold all my 1902 & 1911 Met Police\County & Borough Police\City of London Police\SJA etc Coronation medals last year and concentrated on general issue coronation medals.
Do you have any Met Police 1887 Jubilee Medals to 'H' Division? They provided the main manpower for the Jack the Ripper hunt. There were coppers from other Divisions seconded to 'H' Div to assist but medals to the true 'H' Div guys fetch silly money.
Afraid not. But will keep my eye out for any bargains I find. Thanks for the advice
Read and decide what your collection aims are first as it is so vast. Conflicts, Campaigns, Jubilees, Service of operation etc or simply 'I like that one' is fine too. Medals are derived originally from valuable Medallions hence the name so that is another avenue for you to consider, However, research is key first as if you want to collect VC, GC or MM for example, they are expensive and that where affordability of your hobby has to be considered. The magic is in building the history of it. I would advise buy one relatively cheap and research it history, as you will then find out the area of the pastime that suits your passion.
A VC or GC can set you back anywhere from £150k - £275k and in some cases, more than that. A WW1 DCM or MM will be around £450 - £850 and a WW2 DCM\MM, from £1250 - £2250 depending on the action it was won in.
Even an Aircrew Europe Star can be £200-£300 and the ACE clasp, £150-£200.
@Valiant So it all depends on your chosen 'theme' and how much you're prepared to pay. There's an upcoming auction at Dix Noonan Webb on 23 June - have a look here and it'll give you some idea of prices:
Orders, Decorations, Medals and Militaria (23 June 2021) Lots | Dix Noonan Webb (dnw.co.uk)