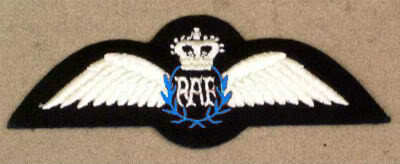 [size=1]my poor attempt at a recognition training picture of the brevet[/size]
[quote="Nick Hopkins guardian.co.uk, Friday 14 December 2012 18.05 GMT"]
[size=5]RAF drone pilots to get their own wings[/size]
Air force chief Stephen Dalton says new badges for remotely controlled UAVs recognises service's increasing reliance on them
Pilots of the RAF's remotely controlled drones are to be given their own version of the service's 'wings' badge as the military looks to expand the use of the technology, it emerged on Friday.
In what is thought to be the first change to the badge for qualified pilots, the head of the RAF, Air Chief Marshall Sir Stephen Dalton, said the move reflected the importance and "increasing reliance upon remotely piloted capabilities".
The RAF was at the "leading edge" of the weapons systems, he said.
Speaking at the Royal United Services Institute, Dalton said unmanned aerial vehicles (UAVs) would be essential for the RAF and argued the service also had to look to space as another "new fertile ground for intellectual and technical development".
"With our partners we are seeking to exploit the military opportunities which technology can provide and to fully embrace the remotely piloted air systems potential," he told the thinktank.
"Their persistence, their sensors, the lethal precision of their weapons all contribute to a complementary and cost‑effective way to conduct warfare where operational threats and environments permit."
In recognition of the growing importance of remotely piloted air systems (RPAS), and the skill, complexity and professionalism needed to operate them, those who flew the aircraft would have their own badge, Dalton said.
It will have blue laurel leaves to distinguish it from the regular badge and will be awarded from April next year.
Dalton made clear that UAV pilots would be qualified aviators in their own right, and would "only be drawn from commissioned officers who we deem to be best placed to deal with the complex and often ambiguous battle space".
The RAF bought five Reaper UAVs in 2008 and another five are due to be in service imminently. They will all be flown in support of British military operations in Afghanistan.
In his speech, Dalton said he wanted to explore the possibilities offered by a new generation of miniature reconnaissance and intelligence-gathering satellites. He said they would have been particularly useful in the early days of the Libyan campaign.
"The cost of entry to space has historically only allowed a few nations to participate but, increasingly, this barrier is lowering as commercial opportunities become increasingly affordable. This is an opportunity which I am keen for the Royal Air Force to grasp particularly in the realms of cost effective intelligence, surveillance and reconnaissance.
"For example, nano and cube satellites offer a far lower‑cost method of accessing space capabilities which can meet the uncertain and contingent challenges of the future. A cluster of low earth orbit micro satellites launched in March 2011 would have given us unmatched understanding of what was going on in Libya during that critical early phase."
Dalton said there was "always a temptation to under invest" in military capabilities between crises, but warned the countries enemies "cannot be relied upon to follow this trend".
"Those adversaries who have stolen the initiative in the air, the ground or at sea intellectually or technically have had and, more importantly, could in the future have near decisive effect at the outset of a conflict. In recent history, these lessons have been heeded by successive governments, and decades of near continuous operations for the Royal Air Force have seen us strive constantly to control the skies."[/quote]
(see [url]http://www.guardian.co.uk/uk/2012/dec/14/raf-drone-pilots-wings-badge[/url] or the current edition of RAF News}
wilf_san