See the main post at: https://aircadetcentral.net/news/current-affairs/nations-flagship/


Nation's flagship takes to sea for the first time
History was made today as HMS Queen Elizabeth, the first QE Class aircraft carrier, set sail from Rosyth to commence first stage sea trials off the north-east of Scotland
.
Defence Secretary Sir Michael Fallon said:
This is a historic moment for the UK as our new aircraft carrier takes to sea for the very first time. This floating fortress is by far the most powerful ship ever built in Britain that will enable us to tackle multiple and changing threats across the globe.

HMS Queen Elizabeth is an enduring example of British imagination, ingenuity, invention that will help keep us safe for decades to come. She is built by the best, crewed by the best and will deliver for Britain.

For the next fifty years she will deploy around the world, demonstrating British power and our commitment to confronting the emerging challenges from a dangerous world. The whole country can be proud of this national achievement.
Three years after she was officially named by Her Majesty The Queen, the Nation's future flagship will spend an initial period of around six weeks at sea to test the fundamentals of the ship. The sea trials will monitor speed, manoeuvrability, power and propulsion as well as undertaking weapons trials and additional tests on her levels of readiness.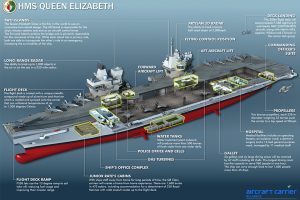 Read more…
https://www.gov.uk/government/news/nations-flagship-takes-to-sea-for-the-first-time