Hey I was wondering if it is worth buying my own set of MTP webbing
It depends - your wing should have webbing for range days and your local SATT team should also have webbing for students. Shooting order webbing consists of 2x double ammo pouches on the left side and a utility pouch. It can be just belt order or you can purchase the harness aswell. There is lots of other pouches you can buy for your own set up such as ammo dump pouch but realistically you won't need them.
I would say that's it's only worth buying your own belt-kit for shooting if a) you're a shooting freak who shoots lots, and b) your wing/sqn doesn't have much and you find that when you're shooting you share webbing and have to re-adjust it several times during the day.
You don't need MTP webbing at all, DPM belt-kit is fine - it's cheaper, it's just as effective, and if it's filthy it pretty much looks like MTP anyway. Lots of regular soldiers are still using DPM belt kit, so don't worry about fashion.
Use the money you save to spend more on more important things - boots, waterproofs, daysack/rucksack…
DPM you peasant, get a set of OG it's far more ally!
If you use it a lot then yes, but as above get a second-hand set of DPM and save many pennies! You should be able to get something usable for under £20, which means that you can get it well set-up once and then it'll remain balanced and comfortable.
Sod it, go '44 pattern. Uber Ally!
(Don't go '58 pattern. It was never good.)
Chest rig, belt-kit, Berghaus Crusader with DPM PLCE side pockets (and flaked, sandy spray paint).
Old-style DPM windproof (hero sleeves), US tri-colour desert trousers, civi walking boots.
Beard, massively scruffy hair.
Sunglasses, fingerless Oakley gloves, drop pouch on one leg, holster on the other, solitary kneepad (round your ankle), backwards cap with subdued velcro identifier…
Sounds like the Public Order Medics at work.
Surely '37 pattern is the most ally!!
Careful, pretty soon you'll be advocating for LFMT to be carried out with a Ribauldequin…
Pah!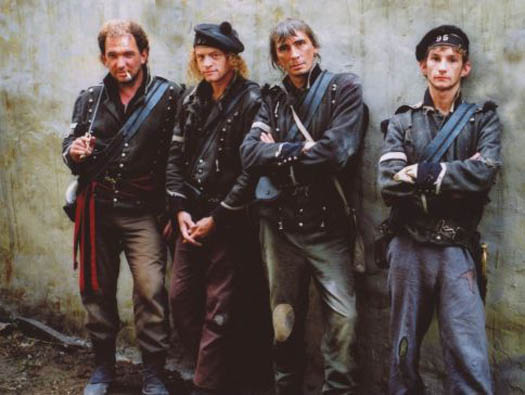 Only if I can shoot a seven barreled gun!
You most likely will never need your own set. If you do, you would know.
Nah, it didn't have the cool lift the dot water bottle pouch.
Sorry, thought we were going for tryhard ally
Most successful light troops of the era who stole most of their "webbing" from dead French Soldiers!!
Ah yes, reminds me of the regimental crest of 2 crossed dead Frenchmen emblazoned on a mound of dead Frenchmen.