Hi all,
Thought this opportunity may be of interest to any budding academics who are RAF enthusiasts.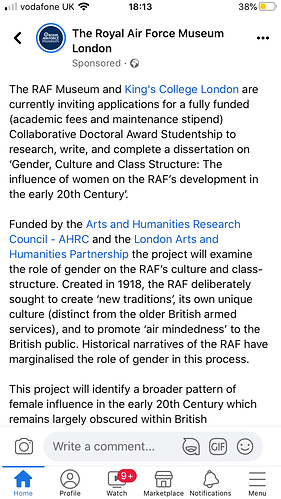 It's a great opportunity, you'll need
a Bachelors degree with 1st/2:1 honours
a Masters degree in a related subject with Merit or Distinction
Applications close 5pm on Friday 27th January 2023.
MB
Is this really an area where there is a lack of research still? I mean, back in the day, definitely - the WRAF undervalued (not to mention the ATA girls) but not now, surely?
Wonder if the 'class' research will feature Armstrong & Miller. I have strong views on that RAF stereotype…
Maybe there'll be a part of Barbara Cooper and Dawn McCafferty. Especially the former, wasn't she the highest ranking female officer in the RAF at one point.
Dawn also became a very visual female face of the ACO/RAF/RAFAC.
I don't know the statistics but I would imagine there's more middle class/upper middle class people in the British Army (think household cavalry sort) than RAF.
The original post said 'Early 20th Century' so think is a little before Dawns time